BLUEPOINTS REWARD PROGRAM
EARN WHILE YOU LEARN AND SAVE ON FUTURE COURSES
You spend hours fulfilling CEUs for license renewal. It's time you got a reward! Save on Future Courses by
Earning BluePoints Today
What Are BluePoints?
BluePoints is our exclusive incentive program for BlueVolt CE University learners! Every course you complete is worth a different amount of BluePoints.
---
Complete a course to earn your reward! Watch your BluePoints balance grow.
---
Each BluePoint is equal to $1 in value. As your balance goes up, your savings on your next course increases.

Use BluePoints toward paying for additional courses. This includes both CEU courses and professional development courses that help grow your skills as a trades professional.

Getting paid to learn and using BluePoints to continue learning has never been easier! What happened to $BlueBucks?
We wanted to give BlueVolt CE University learners your own incentive program, so we created BluePoints. This program keeps your needs in mind for completing continuing education, professional development, and product training courses.
Why do I still see $BlueBucks in my profile?
Updates to the site are already hapening. Over time, you'll see even more, including changing "$BlueBucks" to "BluePoints."

By the way, $BlueBucks are equal to BluePoints. It's a 1:1 exchange!
Can I still use the $BlueBucks I earned?
Yes! We've transferred all your credits. You will not lose a single reward!

Just like before, you earn BluePoints for every course you complete. Use BluePoints toward paying for future courses that you need.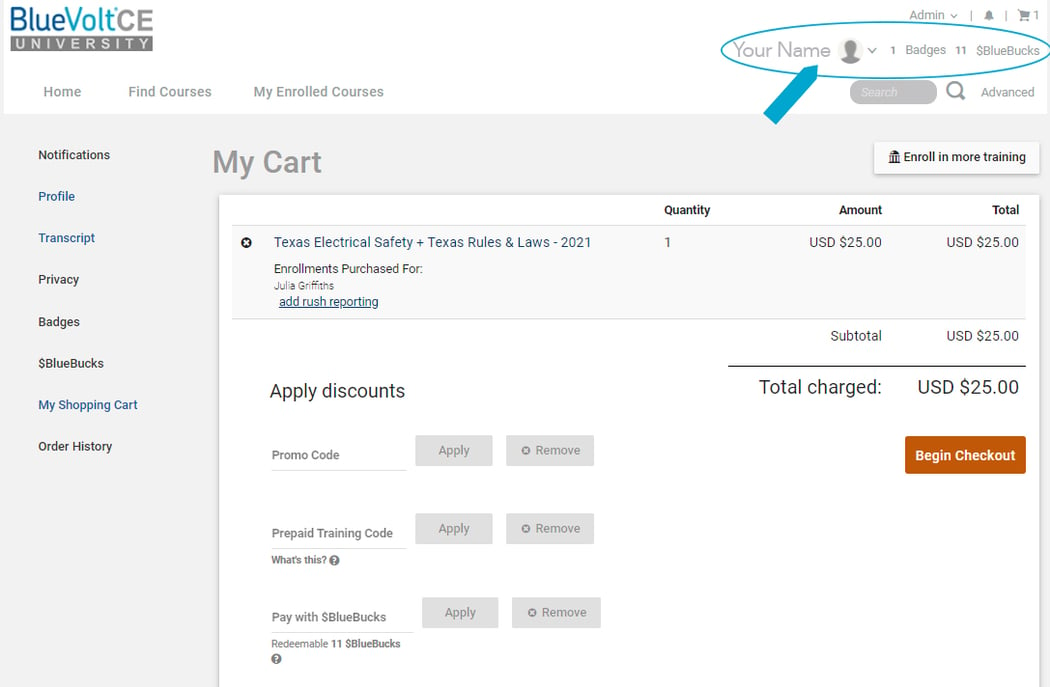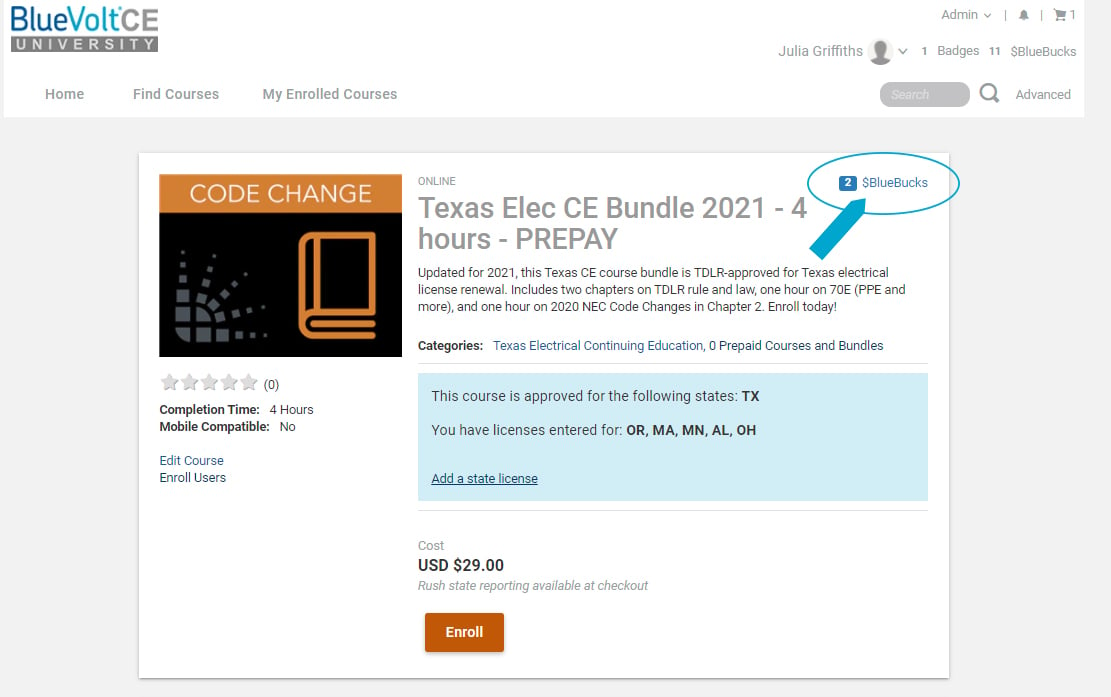 How to Use Your BluePoints
Log into your BlueVolt CE University account. Your balance is listed next to your name.


NOTE: The system will still show "$BlueBucks" as we transition to BluePoints. All your Bucks/Points will be in there. We promise!



Pick a course and enroll to add it to your cart.


At checkout, there will be options to Apply discounts. In the section labeled "Pay with $BlueBucks," enter the amount you want to use.


NOTE: Again, this will say "Pay with BluePoints" after the full transition.



Click apply, and that amount will be deducted from your total upon checkout
---
See the amount awarded for each purchase.


Contact Us With Any
Questions About Our
BluePoints Program!